AL-PAK® Domestic & Industrial Wastewater Treatment Plant
The AL-PAK® wastewater treatment plant is specially engineered and developed for the important environmental needs of:
Townships
Hotels
Holiday Resorts
Recreation/Golf Clubs
Factories
Small Industrial Parks
AL-PAK® is available for capacity up to up to 3,000 m3/day per unit. Altech Environment will custom-engineer off-standard plant sizes and specifications to each individual client's requirements.
AL-PAK® produces superior effluent quality which meets or surpass most government and state environmental regulations. AL-PAK® is available in standard and AL-PAK® (ceceas) (continuous extended cycles extended aeration system) with nutrient removal capability.
ADVANTAGES OF AL-PAK® AND AL-PAK® (CECEAS)
Compact modular design
Low capital investment
Simple operation & maintenance
Low operation & maintenance costs
Simple installation/relocation
Minimal sludge produced
Excellent effluent quality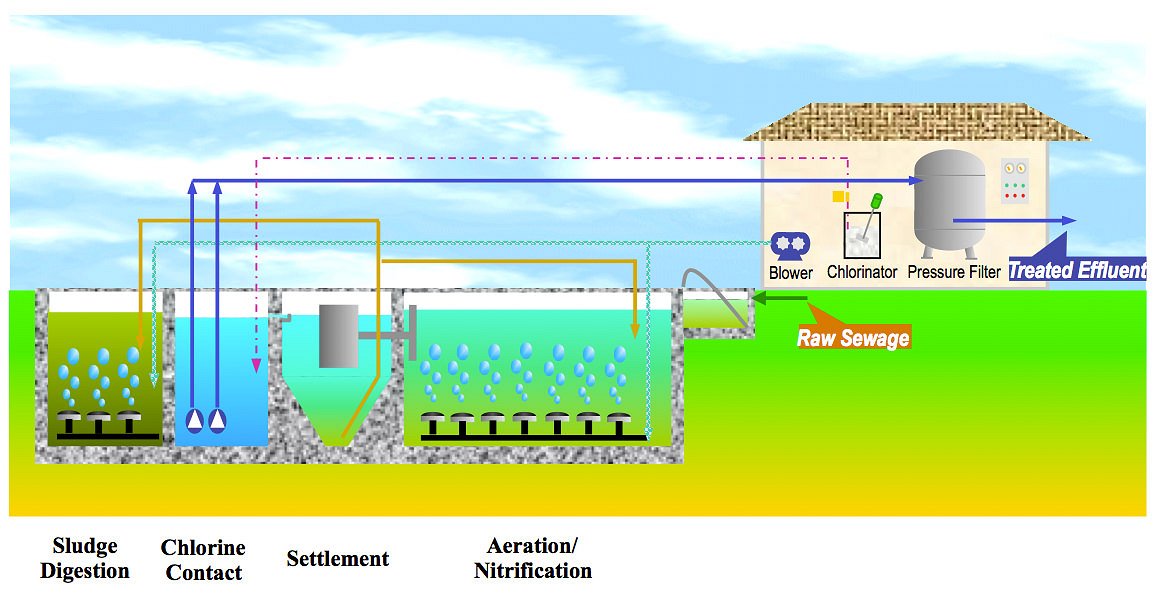 EFFLUENT QUALITY - AL-PAK®
| (mg/l) | Influent | Effluent | % Removal | Effluent (With Tertiary Treatment) | % Removal (With Tertiary Treatment) |
| --- | --- | --- | --- | --- | --- |
| BOD5 | 250 | <20 | 92 | <10 | 96 |
| SS | 300 | <30 | 90 | <15 | 95 |
AL-PAK® is available in AL-PAK® (ceceas) version for enhanced BOD removal and nutrient removal. The advanced technology encompasses a continuous combination of aerobic/anoxic and anaerobic cycles to effectively remove BOD, N and P by totally biological means.
AL-PAK® (ceceas) is a continuous process, unlike current advanced technologies e.g. SBR which are batch processes. AL-PAK® (ceceas) does not use maintenance-intensive equipment like decanters and expensive process control systems. Its simplicity means that existing activated sludge plants can be easily upgraded to an AL-PAK® (ceceas) without heavy investment costs.
EFFLUENT QUALITY - AL-PAK® (ceceas)
| (mg/l) | Influent | Effluent | % Removal |
| --- | --- | --- | --- |
| BOD5 | 250 | <10 | 96 |
| SS | 300 | <15 | 95 |
| NH3N | 15 | <1 | 93 |
| NO3/N | 10 | <5 | 50 |
| T-P | 7 | <2 | 71 |
AL-PAK® and AL-PAK® (ceceas) are best suited for treating the wastewater from:
Domestic wastewater
Dairy
Food processing
Tannery
Pharmaceuticals
Chemical
Refineries
Pulp & Paper
Abattoirs
Textile
Beverage
Leachate